Why Gregor?
Clicca here to see Gregor at work.
I chose Gregor for many reasons. First of all, Gregor is a real hunting (rough shooting) dog who hunts regularly in a difficult environment (Italian Alps). Hunting (rough shooting) is essential  to verify througlythe qualities of a pointing dog. Things like endurance and natural connection with the handler ca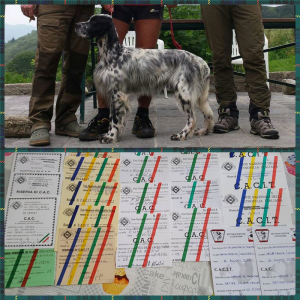 nnot be evaluated during a trial.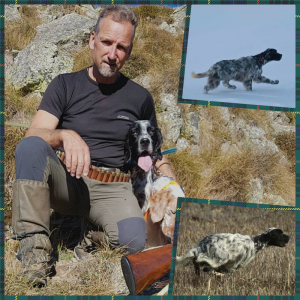 Furthermore, dogs who hunt in difficult conditions, such as public grounds, need a an extremely high drive to continue searching for birds without seeing one for ours.  Gregor awards in mountain trials certify his qualities. Gregor has been trained and is handled by his owner, which is fairly unusual for an Italian top winning English Setter: most of them are given to professional handlers.
I also like his conformation (I think he as an excellent topline) and his temperament.
Click here to go back to the first page.
Click here to learn how the puppies will be reared and get contact information.